NOBODY Expects the Cape Cod Commission!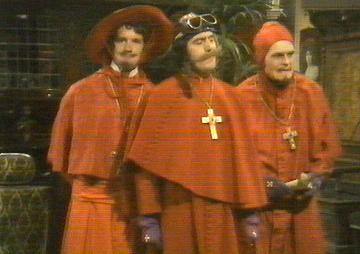 NOBODY expects the Spanish Inquisition! Our chief weapon is surprise...surprise and fear...fear and surprise.... Our two weapons are fear and surprise...and ruthless efficiency.... Our THREE weapons are fear, surprise, and ruthless efficiency...and an almost fanatical devotion to the Pope.... Our FOUR...no... AMONGST our weapons.... Amongst our weaponry...are such elements as fear, surprise.... I'll come in again.
Monty Python's Michael Palin as Cardinal Ximinez of Spain

A groups of citizens have a simple question for the people of Cape Cod - What has the $50 MILLION DOLLARS of taxpayer money that the

Cape Cod Commission

has spent accomplished for you and jobs in our economy?What is the primary mission of the

Cape Cod Commission

, as created in 1989 and revised in 1990? First, the preservation of Cape Cod with attention to the containment of sprawl and overbuilding, and then the economic development of Cape Cod.For the first, the

Cape Cod Commission

itself is one of the worst causes of sprawl. By naming a threshhold of 10,000 sq. ft. for its review, it has guaranteed the proliferation of 9,999 sq. ft. buildings; sometimes, built adjacent to one another with similar purposes merely to avoid the extra year and thousands of dollars that a

Commission

review entails. If you think that they have done what they can to contain buildout in a frenetic real estate market, contrast the results of the munificently paid, appointed

Cape Cod Commission

with the unpaid, elected

Old King's Highway Regional District Commission

. Drive down Route 28 -

Cape Cod Commission

territory - and Route 6A -

Old King's Highway territory

- and judge the visuals of preservation and sprawl for yourself.As far as economic development goes, it has done a wonderful job of spurring economic development -

in Plymouth County

. Any business seeking to locate on Cape Cod must consider that in addition to state and local regulation, there is an additional level of permitting bureaucracy to navigagte. In Cranson, a clean, light industry will have the city build a road and install traffic signals to entice them there. In Chatham, the same clean, light industry can count on months of review by unprepared planning wonks, who demand that they pay for neglected traffic infrastructure as a form of tribute. Where would you choose to locate your business?
This citizen group, calling itself 'DeCommission the Commission' will hold an open meeting on

Thursday, January 25, at 5:00 pm

at the Cape Cod Co-Operative Bank Headquarters Conference room in Independence Park at the corner of Independence Drive and Attucks Lane in Hyannis. This is across from the

Home Depot

that the Commission fought for several years, making sure that it did not sell paint, although the store premises it was moving into had, in order to protect the water being contaminated by the County Fire Academy. Of course, the Home Depot is a business, and is therefore evil, like a Wal Mart or Lowe's which they have done a fine job of protecting us from in favor of tiny strip malls with little economic viability. Now that

Gov. Patrick

is considering exporting its expertise across the state, it may be time to consider ending it entirely - NOBODY expects the End of the Cape Cod Commission!