IS History Still Written By The Winners?
To hell with them. When history is written, they will be the sons of bitches—not I.

Pres. Harry Truman, On criticism by what he called the "sabotage press," quoted by Margaret Truman
This is another quote from 1897 in Pudd'nHead Wilson by Mark Twain, "

The very ink in which history is written is merely fluid prejudice

." Both of these remarks pertain tremendously to the Monday Morning Quaterbacking efforts of the Democrat Party in the present day.

The U.S. Armed Forces have found no significant weapons of mass destruction in Iraq. I say 'significant', as quantities of suspicious chemicals have been found, and it has become increasingly obvious that the weapons of tomorrow are made on a Bunsen burner, not a factory floor. This is not the best way to end what Eisenhower warned of as the 'military-industrial complex'. At least then, you knew where weapons were and who made them.

Now that the backpedaling on Iraq has begun in earnest, various notables are saying that they had been against it all along. They 'didn't receive intelligence briefings', or those they did receive briefings say they were 'tainted by politics', acording to former Vice Presidental Candidate John Edwards. That's why they voted to authorize the use of force in Iraq

One of the few honest Democrat Senators, a different Vice-Presidential Candidate, Sen. Lieberman, said this, ""It is no surprise to my colleagues that I strongly supported the war in Iraq. I was privileged to be the Democratic cosponsor, with the Senator from Virginia, of the authorizing resolution which received overwhelming bipartisan support. As I look back on it and as I follow the debates about prewar intelligence, I have no regrets about having sponsored and supported that resolution because of all the other reasons we had in our national security interest to remove Saddam Hussein from power - a brutal, murdering dictator, an aggressive invader of his neighbors, a supporter of terrorism, a hater of the United States of America. He was, for us, a ticking time bomb that, if we did not remove him, I am convinced would have blown up, metaphorically speaking, in America's face."

To refresh the memories of others, I ask that you view
THIS BLOGCAST
,

Dishonest

On Iraq

, which was sent to Porcupine through a friend. Juxtaposing words is one matter, but juxtaposing videotape is a much more compelling argument.

They say a picture is worth a thousand words, so I include this one for you to think about as well.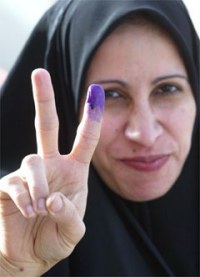 "

Fifty-eight percent of Iraqis voted in the last election. That's more than we had turn out in 2004.

" - Former President William Jefferson Clinton on CNN with Wolf Blitzer